Trail-A-Mate | Caravan and Trailer Jack
Setting the standard for
caravan and trailer jacks
In 2003 the ACCC introduced a mandatory safety standard for caravan jacks. Trail-A-Mate was instrumental in assisting the goverment to introdcuce the new standard. Find out more...
Trail-A-Mate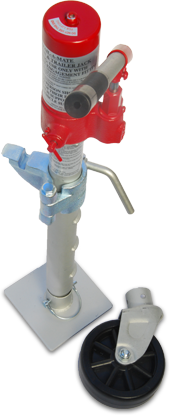 Trail-A-Mate is our flagship product. It is a Hydraulic jockey wheel that converts in to a jack when you need it. You simply swap the wheel for a solid base plate. The key features of the Trail-A-Mate are as follows:
Capability - WLL 1,000kg / ATM 2,900kg

Versatility - Easily converts from a jockey wheel to a jack
Ease of Use - Being hydraulic it takes very little effort to operate
Safety - Fully complies with the Australian mandatory safety standards (2693:2007)
It has many applications and uses as you will see below such as Caravanning, Horse Floats, Trailers, Food Vans, Motor Homes (the list goes on). It is even used by the Australia Defence Force - four Trail-A-Mates are used on each corner of a vehicle that carries a telescope so it can be safely leveled on un-even ground. It is an extremely versatile product.
In addition to its versatility we have spent many years perfecting and refining the Trail-A-Mate to be as safe and easy to use as possible. Leading up to 2007 we were working with the Australian Government to assist them in introducing a Mandatory Safety Standard for Caravan and Trailer Jacks. Each year in Australia around 160 accidents are linked to the misappropriate use of vehicle jacks. Deaths and injuries ranging from amputation and fractures to crush injuries, result from vehicles falling off vehicle jacks, so don't risk using an un-approved jack.
1.

Can Trail-A-Mate be fitted to my caravan?

Yes, Trail-A-Mate has been designed specifically to fit caravans, trailers and horse floats into the existing jockey wheel clamp.
Below are links to the Trail-A-Mate Owners Manual and the Trail-A-Mate Parts List.
Product Safety Bulletin
In February 2007, the Australian government released a product safety bulletin announcing the Mandatory Safety Standards that must be met by ALL caravan jack manufacturers. The standard specifies requirements for the design, construction, performance and labelling of vehicle jacks.
The Trail-A-Mate Jack is a very versatile product. But our customers are continuously coming up with new ways of using it.